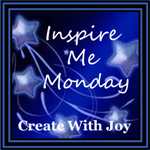 Welcome to

Valentine Monday Social

A place to share your DYI inspirations Cooking skills or recipes, Handmade Valentine's and ideas. Join us in this creative blog hop. To participate, simply follow the host, (that would be me) and then add your links to the posts on your blog you would like comments on!!
Have fun and visit as many blogs as you have time for!!
I would appreciate your follows




I am linking to Create With Joy on Inspire Me Monday and I ask you to
I am not very creative when it comes to crafts for Valentines so I borrowed some ideas from friends at Pinterest. What would we do without them. I love that site.